Complete Boat Restoration
Q

Is your boat looking Old and Rustic?

Q

Is today's unstable economy making you hesitate on trading in your old beat-up boat in for a brand new model?

Q

would you like to keep that old boat—but wish it looked new again?

We can make that wish come true!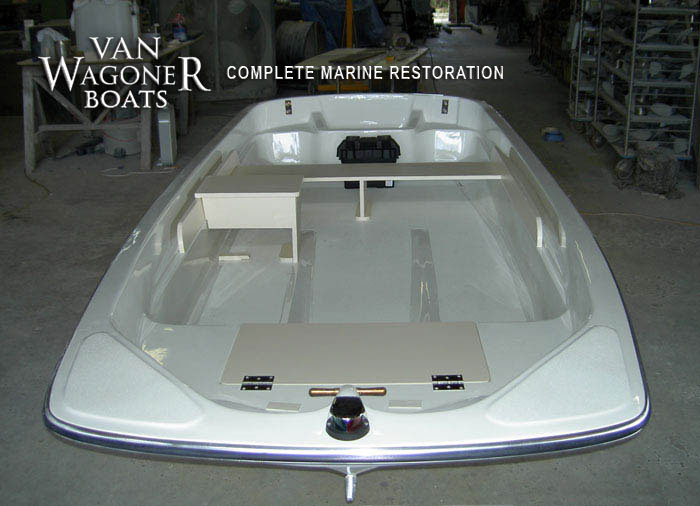 Replace Boat Parts
Does your boat have parts that damaged and in need of repair or replacing? Van Wagoner Boats can remove all those old, pitted, and rusted parts and install nice, new, shiny parts. We can completely restore your boat's interior with newly recovered seats, new carpeting, new wall coverings, and new or restored windows.
Custom Fiberglass Modifications and Add-Ons
Do you have a better floor plan idea for your boat? Van Wagoner Boats can create the floor plan of your dreams and install it in your boat. We can remove old windows, fill in the existing cutout, and install modern windows if that is your desire. No modification is too big or too small!
Get New Boat Electronics
We can completely rewire your boat to conveniently install electronics anywhere you need them. Let us install that stereo you have always wanted complete with remote control and upgraded speakers.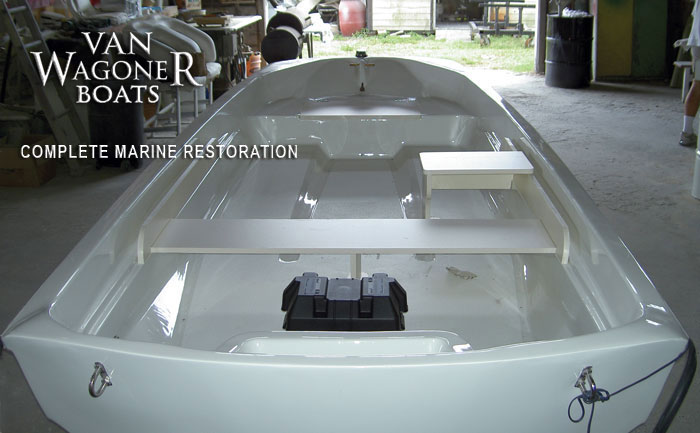 Custom Boat Tops and Boat Covers
We can also install custom made canvas boat tops and covers. Is your canvas too lose and flopping in the wind? Canvas modifications are no problem. We can make that floppy canvas fit like a glove.
Boat Paint - From The Ground Up
We can restore your boats blistered bottom to new condition which will prolong the life of your boat. We can properly apply new inti-fouling bottom paint for your in-water boat allowing you to keep the marine growth to a minimum. Learn More! Contact Van Wagoner Boats Now!